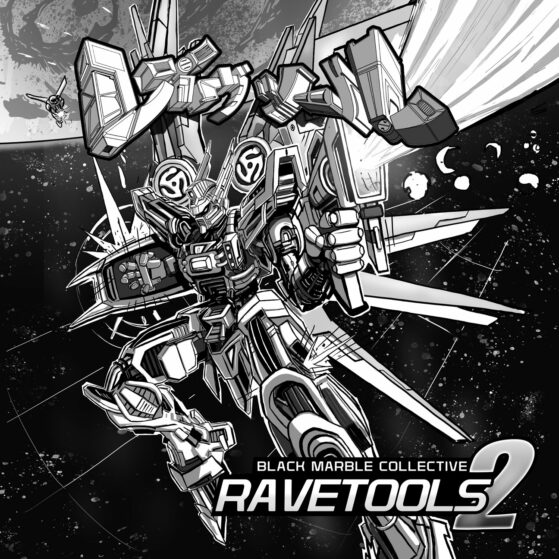 20 SONGS + RAVETOOLS 2 SAMPLE KIT
with over 150 DIGITAL 90's RAVE SAMPLES
PRE-ORDER RAVETOOLS 2 & GET 7 TRACKS
+ THE 90s RAVE SAMPLE PACK NOW!
LINK:
MUSIC FROM:
6BLOCC • DEV79 • CALCULON • HOMESICK 
WE ROB RAVE • DJ ENDS • CAMO UFOS • DBK 
FRENQUENCY • STVY RVRE • DOM CORLEONE 
ILLEXXANDRA • JAH BLIDDIE • SHAMAGA 
AUSTIN SPEED •JTRA • CRISTIÑA • HI$TO
COUNT VANDERHOFF • FLP • SPOTOVSKY
ALEXANDRE • PUFF.MAGIC • K-RAI • SUBSHELL
This compilation has been a long time coming! We gathered tracks from all of our artists and friends to bring you TWENTY 90s RAVE influenced tracks that have an updated BASS HEAVY FEEL! These tracks range from Hardcore Jungle, Drum N Bass, 160BPM, Footwork, Ragga Jungle, and even a DAB of Club Music!
All tracks are free, we just ask that you pay $9.99 for the sample kit, and if you want some of our killer merch, we have that available for you too!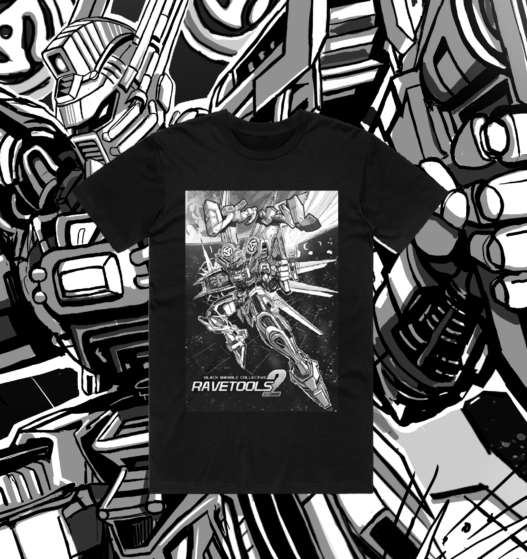 CLICK IMAGE ABOVE TO PURCHASE OUR LIMITED EDITION RAVETOOLS 2 GUNDAM T-SHIRT!
_____________________________
_________________________________
JOIN US JUNE 25th 2022 FOR OUR
RAVETOOLS 2 RECORD RELEASE PARTY!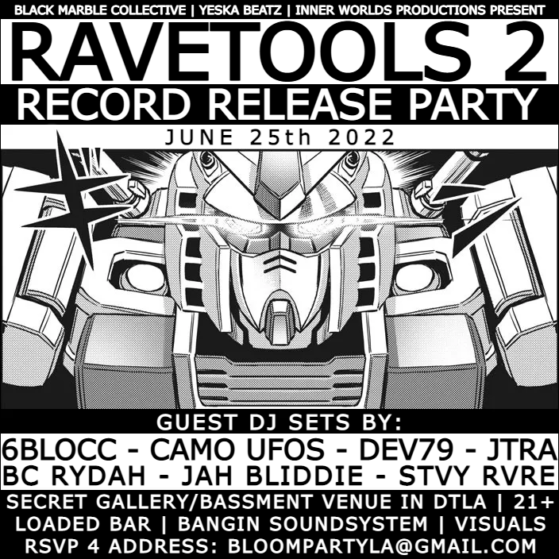 YEZKA BEATZ and INNER WORLDS PRODUCTIONS
will be kicking off the summer with another BLOOM!
Black Marble Collective will be takin over room 2 with a special Ravetools 2 album release party!
YES! WE HAVE TWO LEVELS OF BASS IN DTLA
AND A SUPER STACKED LINE UP!
AREA 1
CHROME MAMI – LOUIS LOVE – ABF
BC RYDAH – KURA 7 – NGJ – EDWARD XAVIER
AREA 2
(RAVETOOLS 2 RECORD RELEASE PARTY)
DJ SETS BY: 6BLOCC – CAMO UFOS – DEV79
JAH BLIDDIE – JTRA – STVY RVRE
THIS GALLERY/BASSMENT VENUE IS IN DTLA | 21+
LOADED BAR | BANGIN SOUND SYSTEM | LIVE VISUALS
$10 B4 10pm | $15 AFTER | PARTY TILL 5AM
RSVP for location: bloompartyla@gmail.com
TICKET LINKS:
https://www.eventbrite.com/e/bloom-x-ravetools-2-record-release-party-tickets-332248102017
FACEBOOK RSVP:
https://www.facebook.com/events/337390838313672