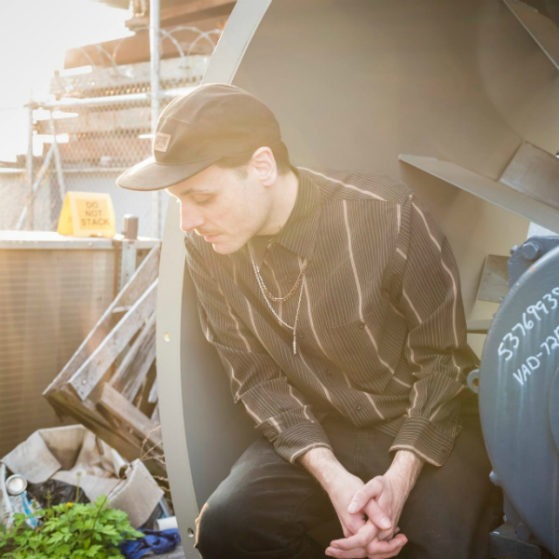 Fresh from his
SXSW shows with DJ Paypal & DJ Taye
–
DEV79
flexes his most HEAVYWEIGHT release to date –
"Can't Fit In A Box."
With this 4 track EP expect HUGE smacking basslines and melodies that get stuck in your DOME! If you're looking for tunes to impress, this album has something for everyone from Hip-Hop heads, Footwork fans, Club fiends and even something for the underground rave. All twisted to the unique vision of Dev79.
The spearheading single "You & I Is Us" features Philly's MC Elixir, who busts his deep raps over intricate beat chops and MASSIVE 160BPM BASS. The EP's other collabo "Emerald Tree Boa" with Dev79's "160 Philly" partner Sideswipe has an old school RAVE and garage feel that will get dancefloors bumping!
79 is a Philadelphia bred artist who re-located to Los Angeles last year but he still has mad pride in his hometown. Which is strongly evident on this EP since all of the tracks were started in Philly and finished in LA and the collaborators and themes of the songs are all related to Philly.
Dev79 has been a producer/DJ for 20 years with roots in grime, jungle, ghettotech and industrial. He effortlessly weaves elements of a plethora of music styles into a tapestry of urban bass music that he (along with compatriot Starkey) have dubbed "Street Bass." Dev79 and Starkey are the masterminds behind the Seclusiasis empire, as well as Slit Jockey Records with partner El Carnicero.


With his riotous DJ sets, Dev79 has kept dance floors sweaty across North America with his deep selection of bass heavy urban music, and has shared the stage alongside acts such as Ivy Lab, Bok Bok, DJ Shiftee, AC Slater, 6Blocc, Juke Bounce Werk, Girl Talk, RP Boo, Plastician, Skepta, Kastle, Murderbot and more.
DEV79 LINKS:
https://tinyurl.com/DEV79Spotify
https://www.facebook.com/Dev7nine/
https://www.instagram.com/dev7nine
http://www.twitter.com/dev79

https://tinyurl.com/Dev79-BMC025-EPK
Tour Management
Mike@BlackMarbleCollective.com
Label Contact
BlackMarbleCollective@gmail.com